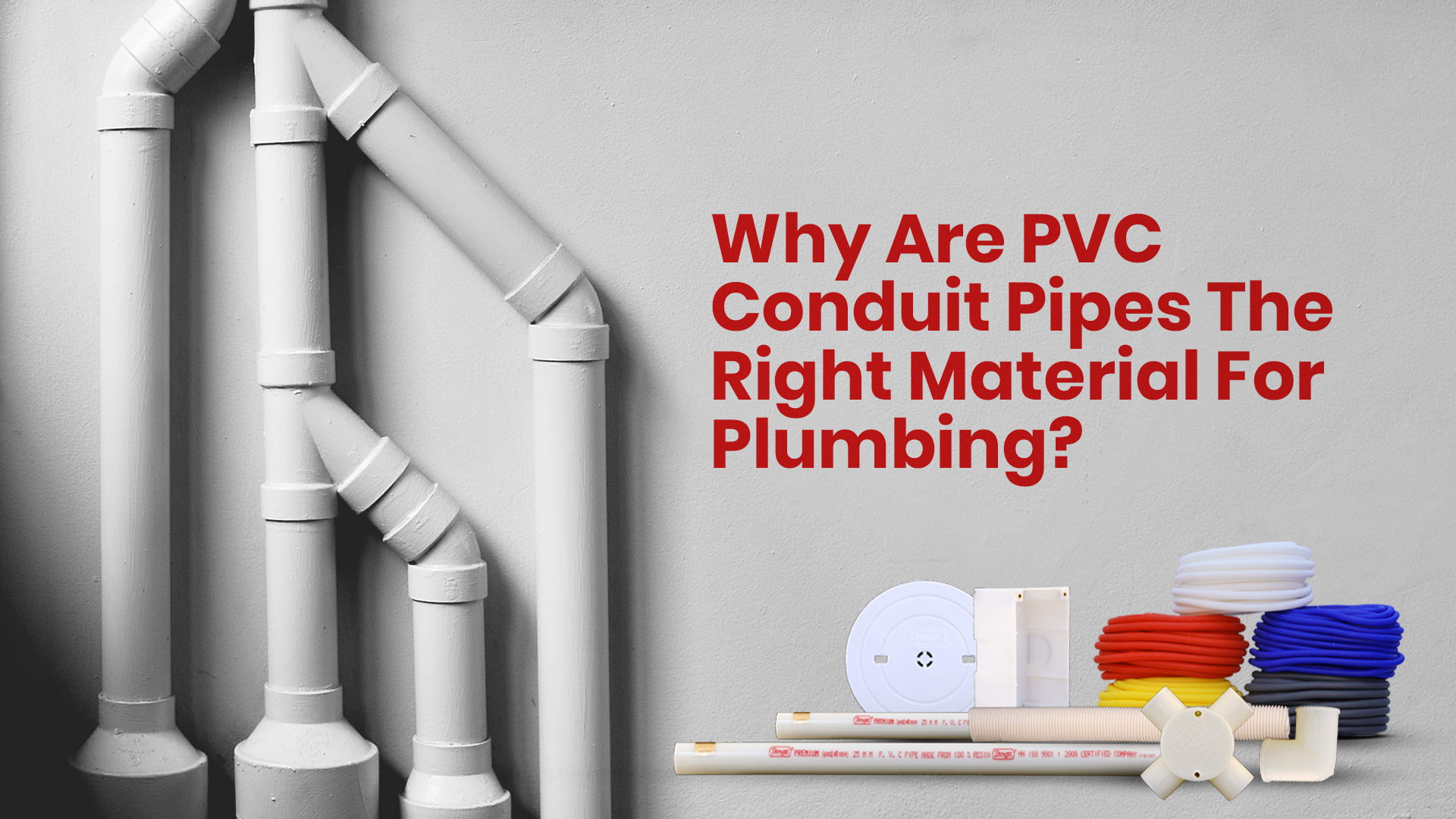 Why Are PVC Conduit Pipes The Right Material For Plumbing?
Whenever there is a plumbing project or any sort of plumbing work in your home too, it can turn out to be exciting. And that can be especially when you start shopping for pipes and find all of the different options available for you in the market.
There is a wide range for you to choose from that include PVC, galvanized metal, or flexible PEX tubing. Here we are with all the details that you need about the most popular type of plumbing piping. Along with that, we will also provide you with what they are best used for so that you may take your decision a little easier.
Image Courtesy:
Google
PVC conduit pipes
If we say that till date one of the most commonly used pipes in residential homes is polyvinyl chloride (PVC) pipe which we see as the white piping and that is commonly used in many types of plumbing applications. Not to forget, these are affordable and versatile with a collection of different fittings and sizes available. Undoubtedly, PVC conduit pipes are great for all the warm and cold water applications.
Here are some of the points that will surely convince you in favour of them: 
These are one of those pipes that work well for home plumbing piping needs because they do not rust or corrode over time. 

This clearly indicates that they will not need to be replaced until and unless they are actually damaged and start leaking.

At the same time, they are very easy to work with, as they require no welding or metalwork.

They are an inexpensive option for your home and business both. 

PVC

is comparatively strong and durable and at the same time does not bend under pressure, which makes it a piping solution of top choice for all the high-pressure applications.


Here are the things for which PVC conduit pipe can be used for:


Vent stacks

Sink drain lines

Bathtub drain lines

High-pressure applications

Toilet drain lines

Main water supply line running to the home

We also suggest another option that can be opted in case you're not going for PVC for any of your plumbing applications. 




Image Courtesy:

Google 

CPVC Pipes 

Chlorinated polyvinyl chloride pipes which are generally known as CPVC are made from PVC with some extra chlorine added to the material. There is no major difference when it comes to CPVC. It carries all of the same benefits of PVC along with some added durability.

You can have a look at the benefits here: 

CPVC will not degrade if it is exposed to hot water and along with that is safe for drinking water too. 

You will find it slightly more expensive than PVC, however, and at the same time it will split if it is allowed to freeze.

CPVC can be used in most of the applications where copper piping is used, but it is considered one of the best options for a number of points. 

The interior of CPVC pipe is very much smooth, which indicates that it has little water noise as compared to copper plumbing systems, along with little to no problems with "water hammer."

It is very well insulated to prevent energy loss in both hot or cold applications. CPVC is also flexible as compared to metal tubing, with providing a bit more versatility. 

Also, it is extremely fire resistant.




Image Courtesy:

Google

CPVC is used for those applications where all the PVC properties are wanted, but PVC can not be used, including:

Hot water delivery

Drinking water delivery

Hot water drains

Waste and water disposal pipes


So, these are all the advantages of PVC conduit pipe fittings that you can use in any of your plumbing applications. We suggest you Shree Durga Electroplast as they are one of the leading pipes and fittings manufacturers in India.
Top Product of the Week – Durga Electroplast Conduit Pipes!
Construction?
Want your infrastructure safe?
Want no bare wires hanging out?
We have a product that has been the product for this week – Conduit Pipes! It is our best selling product and a supreme in PVC category. So, before we begin talking about why we saw a surge in the sale of PVC conduit pipes or basically why these are best. 
We want you to know about  –
What are PVC conduit pipes?
An electrical conduit is basically a tubing system that is primarily used for protection and routing of electrical wiring in an infrastructure. And, amid all the other material, PVC conduit is the lightest in weight and most effective one. 
We at, Durga Electroplast manufacture it using finest quality raw material by our team of professional workers. They have utmost knowledge on how to design the best using advanced technologies and advanced types of machinery. 
The effort of our hard-working team made us the top seller of PVC conduit pipes in Bihar. 
We offer a range in PVC conduit pipes and make sure that each piece that has to be delivered goes through a strict quality control stage. You can view the following in our product store – 
Durga PVC conduit pipes come in a wide range of four sizes, specifically – 19mm, 20mm, 25mm, 32mm, and is also available in different wall thicknesses to suit open, wall concealed, and RCC-concealed electrical wiring applications.
Moreover, the chemicals used in the manufacturing of PVC resin are of fine quality. Each length of Durga PVC conduit pipes carries a 3D hologram that ensures you are buying an authentic Durga product.
What Made PVC Conduit Pipes the Best Seller?
This isn't the first time that PVC Conduit Pipes has become the best seller, and also it is not alone, the demand of other products – Durga flexible pipes, PVC pipes, gang boxes, pipe fittings, pipe bends, and other accessories, have also increased and is still increasing.
But what makes our PVC conduit pipes stand apart from others?
Smooth Finish Inner Surface:

As mentioned earlier, our PVC Conduit Pipes go through a stringent quality control phase, and we ensure fault-free products. The conduit pipes are smoothened inside out for better wiring and friction-free experience. The edges are cut with precision and smoothened for easy installation.
No Deformation or Bending:

The product doesn't experience any breakage or any deformation even in the high-pressure as they have been manufactured with fine quality raw material. This raw material makes them stronger and best for electrical wiring.
Economical, Durable, & Maintenance Free:

Durga PVC conduit pipes have a long-life, they are durable, easily installable, and maintenance-free. Once you install PVC Conduit you will be ensured with ultimate safety for a long, long time.
Easy to Handle and Install:

Durga PVC Conduit Pipes are super-light in weight and come be a fuss-free installation that makes it best for every infrastructure.
Fire Retardant:

Well, this is the reason why they are used for electrical wiring to safeguard your home from accidents/hazards.
This is why PVC conduit pipe is the bestseller of this week! Durga electroplast pipe manufacturers in Bihar are bringing constant innovations and prime quality in PVC pipes, Pipe Fittings, Accessories, Gang Boxes, and Flexible Pipes. Durga PVC Conduit pipes and fittings are manufactured for electrical applications.
Serving for 26+ years for more than 250 clients! Know all about products, and also go through our history!